I can still taste the flaky, buttery biscuit goodness 3 full days after our visit to the Maple Street Biscuit Company (MSBC) at Teasley Place. This long-
awaited breakfast/brunch gem did not disappoint!
There were four of us with pretty diverse tastes and culinary interests who tested out MSBC on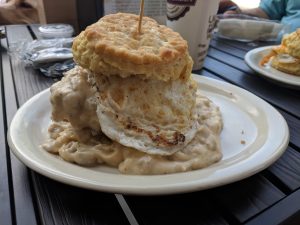 Saturday morning around 11AM. The restaurant is an order at the counter type of place. While ordering, the staff asks for your favorite vacation spot to identify your order which we thought was a unique touch.