Alpharetta Restaurant Week Starts Tomorrow!
Alpharetta Restaurant Week is an annual event where dozens of local restaurants offer special deals, meals, and discounts. This year's line up looks as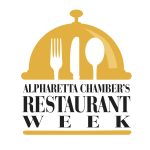 good as ever and includes several new restaurants that opened this year as well as some delivery deals as well!
Read more for a link to this year's participants and a link to the coupons to use all week long.
This year's participants include:
2B Whole (Gluten Free European Bakery)
Ceviche
Jamba Juice –NEW in 2016-
Firebirds Wood Fired Grill –NEW in 2016-
Tom+Chee
Bandora (Falafel, Shawarma, and Salads)  –NEW in 2016-
Taziki's (Mediterranean Cafe)
Flatlands Bourbon and Bayou –NEW in 2016-
Flavor Juicery
Ruth Chris Steak House
BurgerFi
Pieology (Custom Pizza)  –NEW in 2016-
Rio Balsas Taqueria  –NEW in 2016-
Mambo's Cafe
Da Vinici's Donuts
Twisted Taco
Great Harvest Bread Company
5 Seasons Brewing
Ippolito's
ChoicesToYou (Delivery service)
To make sure you get the best deals, be sure to print out the coupon pack or the coupon pack can be picked up at the Alpharetta Convention & Visitors Bureau. All coupons are valid from Saturday, September 10th – Saturday, September 17th.
We'll try to review as much as we can, but I'm not sure we'll make it to all during the week! If you visit one of these restaurants, comment below and let us know what you think.
Happy eating!