Guest Review – Four Fat Cows, One Happy Camper!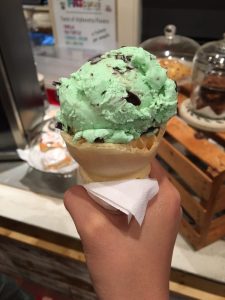 So maybe we will have ice cream weather going forward or we may have a snowstorm. With Georgia, you never really know, but since we don't know, it's best to prepare! So, here we are with our first guest review from our very dear friend Jennifer Huang about Four Fat Cows, a local ice cream shop in Alpharetta. Enjoy!
If you are craving a delicious large creamy portion of ice cream, then this is your spot. Four Fat Cows is located in downtown Alpharetta within walking distance to Alpharetta's favorite downtown restaurants. It's in a prime downtown location and close to the City Hall parking deck, which provides perfect motivation to walk to the store. They have a few tables outside and inside the store. They have an abundance of ice cream flavors and of course you can ask for tasters. I love that their ice cream is not too sweet but super flavorful. I love their mint chocolate ice cream. Honestly anything is delicious but I'd highly recommend one of their sundae options. We tried the strawberry shortcake and it was DELICIOUS. Warning! The portions are huge but it is perfect for a treat on a hot summer day. They also sell toys, and other product that makes it interesting to browse while you decide which ice cream to devour.
Last labor day when it was 80 degrees, I tried to satisfy my craving of ice cream only to find out that they were closed for the season, but the good news is you can order their ice cream as pints. For me, it's not the same. I guess I need to wait for summer to come again.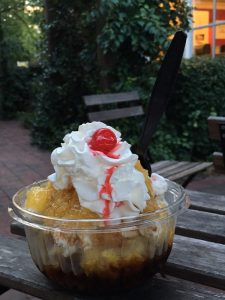 Rumor is they are opening March 20th  with a new menu!