This way to Oli+Ve!
Another different kind of review! This might be long 🙂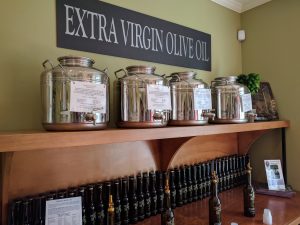 My sister and I went to this place on Canton Street (Roswell) called Oli+Ve! We were fooled because this place is way bigger than it looks from the front of the building on Canton Street! Oli+Ve has a wide and diverse variety of Extra Virgin Olive Oils (EVOO) and Vinegar. We walked in with the intention of looking around and getting a few extra steps on our Fitbits on a Saturday afternoon, but were immediately fascinated by all the amazing things they have in this store!
The store is an old farmhouse that has been converted into small little areas with specialties of their own. The "lobby" contains some oils and some products made with pure EVOO – sugar scrubs, lotions, etc.There is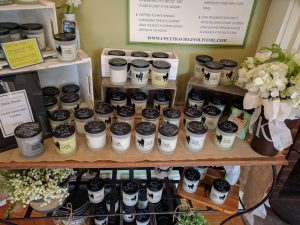 an Olive Oil room, a Balsamic Vinegar room, a room with butters (almond, cashew, etc.) and sun-dried tomato paste. As we walked through the rooms, we were able to taste all of the different oils and vinegar and even put combinations together! One of the customers there was very kind to give us some recommendations and also ideas about giving these products to people as gifts.
There are times when you may or may not know if the host of the dinner party you're attending drinks wine or not. We've never run into this because everyone we know drinks wine and then some. 😉 However, in such a situation, these oils and vinegar would make for splendid gifts! One of the rooms also has pre-made gift bags with small samples of oils and vinegar bottles!
As we were about to walk out of the store, the gentleman at the front desk offered to give us some background about the store and make some pairings for us to taste. He was very good at selling these oils and vinegar because each of us walked out with about $30 worth of product! He was very knowledgeable about the oils and how they paired with the balsamic options and gave us the 2 pairings we left with. My sister bought the Cilantro and Onion Oil and the Peach White Balsamic because the combination of those on a salad or chicken would be phenomenal! I bought the Basil Oil with the Strawberry Balsamic for the Strawberry Fields salads I have been making lately. We were both so impressed by the gentleman working at the store; I wish I could remember his name!
Finally, as we were checking out, he told us about different events and classes held at Oli+Ve and the  frequent buyer program as well. We both will definitely return to this store and try out many more combinations! Who knows, I might even buy these for my next dinner party instead of the bottle of wine 😉