Farm to Ladle… to Mouth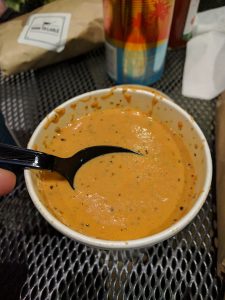 I've been meaning to try Farm to Ladle for a little while and finally made it here on St. Patrick's Day. Not because it was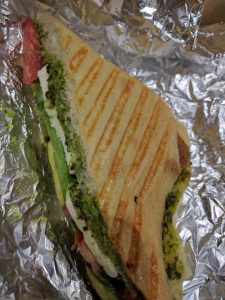 planned, but because Farm to Ladle was the only place without a wait or line. Two of my friends and I walked in and were told around 8:30 PM that everything was "to-go" and they were closing for the evening. So, each of us ordered a soup and salad combo with a beer and walked outside to eat on their patio tables.
The food was pretty good. I got the Avacado Caprese sandwich with the Tomato Basil Bisque soup. The sandwich was very satisfying and the fresh mozzarella in it was juicy and delicious! The soup was a little thicker than I'd like (could have been the last bit from the day), but the flavor was creamy and rich!
My friends both got the Turkey Rueben Cuban and raved ab   out the sandwich. We did all agree, though, that the sandwiches seem a bit pricey for what they are; we also ordered a beer each so that upped our bill for sure! One of them got the Kale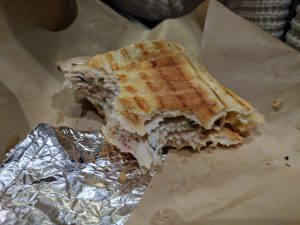 Caesar Salad which looked amazing and fresh. She enjoyed the sala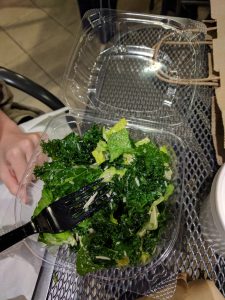 d very much and if I can remember correctly, she wanted me to include in my re
view that "the kale salad is legit!" My other friend got the Corned Beef and Cabbage soup which to me, looked shady, but she enjoyed it very much! She had just been telling us how her mom wasn't making Corned Beef and Cabbage this year which was unusual and disappointing because she makes it every year; so, this soup might have been that annual fix that she needed! 🙂
Overall, Farm to Ladle is a pretty good option if you are looking for a quick lunch or snack, but there are other sandwich places in the area that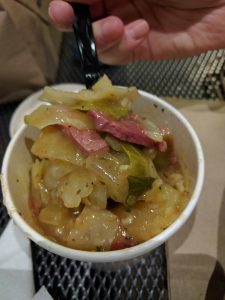 serve similar options with a smaller price tag.