Four Fat Cows closes for "Winter"
Well this is weird. It's 90 degrees today and downtown Alpharetta's best ice cream shop (and only) has closed for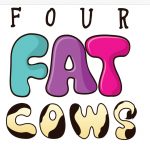 "Winter". Doesn't make sense. We have a review coming in a few weeks by a guest blogger on Four Fat Cows, but we'll have to wait until next year to try it out ourselves. Read on for more details on the closing.
When Four Fat Cows closed unexpectedly September 1st, it was met with widespread confusion as it's certainly hot enough to still enjoy ice cream. On Four Fat Cow's Facebook page, local resident and Four Fat Cows fan, Janean H, wrote:
So sad to see this. We were going to stop by tonight. As a customer I see closing down for this long is short sited and you are losing a lot of business. It's still in the high 80's and 90's and is not winter yet. As a matter of fact we love to go for ice cream in the winter time. Hopefully we won't find a place to replace 4 fat cows before you reopen again.
Thankfully Four Fat Cows did respond to this fan's concern and explained their closure:
Thanks for your note. We are happy to keep you well stocked with pints over the winter!
We have a hard time staffing in winter as we have always tried to support and hire the high school kids in our community. Unfortunately as much as they want to work once school starts they end up being too busy with all of their school work and activities! Next year we will have staff in place that can work over winter and will stay open year round from that point forward!
Thanks again for writing us. Have a great night and let me know if you want pints!
Good news is that they will still be selling pints of their ice cream on a pint-pickup basis, but most of us will have to wait until next year to try out the full experience. Hiring local students is great, but I feel like they could have had 2+ months more of solid business with all of this heat we've been having this year.
Here's to looking forward to next year with Four Fat Cows and stay tuned for our guest review!