Old Varsity Site Slated for Krog Street-Like Development
I have to admit, I really enjoyed the Varsity in Alpharetta. For under $5, I could get two awesome naked dogs, the greasiest fries in the south, and a cold Coke. I didn't go very often, but it always was there to fill in that all too frequent craving I'd have for junk-food. As the years went on, it was clear to see the Varsity was hardly getting a fraction of customers it used to and it's eventual demise came as many expected. I do miss them, but I've hoped the torn down site would be replaced with something even better.
Speaking of tearing down, was it just me or was the Varsity torn down really fast? It's not unusual for failed restaurants to sit empty for a long time so this was a special surprise. Turns out this was because the site already has plans for a new development.
Whaddya have!? Whaddya have!? Whaddya have?!
"I'll take two naked dogs, and a piece of Krog Street Market please."
Read more for the details on what is coming soon to Alpharetta!
Our foodie friends at AJC have some more details in their story:
A developer has proposed to create a food hall where the Alpharetta location of The Varsity once operated, which closed in February
after 12 years of business. Developer George Banks discussed plans for a property with five restaurants at the Design Review Board meeting on Dec. 16.
Banks helped develop Krog Street Market, the popular Inman Park marketplace for restaurants and vendors that opened in late 2014.
"The whole idea for this prototype was to take what we learned at Krog Street and kind of distill it down into a new construction model,"
Banks said at the meeting. Banks said four of the spots have already been leased but did not announce any names. He mentioned one would be a "breakfast/lunch place" that would close at 2 p.m.
The space that has not been leased is intended to sell ice cream — similar to Krog Street Market, which has an outpost of Jeni's Splendid Ice Creams. The conceptual site plan was approved with the condition that Banks is to return and present specific samples, colors and choice of final site plan at a Jan. 20 meeting.
Personally, I'm very happy to see this development planned for many reasons. First, it's prime real estate and should be used for something.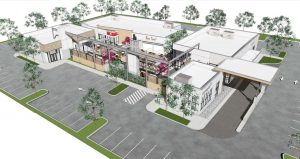 Second, I'm very much into this new ITP coming OTP trend that has been slowly building. For a long time, Alpharetta has been the land of strip malls and chain restaurants. Nothing wrong with that, but it doesn't have any "wow" factor, let alone some uniqueness that makes people want to visit Alpharetta. Avalon, the new City Center, and now this Krog Street-style market are leading the way for Alpharetta to become a destination for one of a kind high quality restaurants, and that is something we can all celebrate!
We'll keep you updated on developments here, but tell us, what would you like to see in the new AlphaKrog Market? (That's a name we just made up.) Personally, I'm looking for a Fred's up here!