Review Time: Bezoria – Delicious Mediterranean!
There are not many options for Mediterranean cuisine in Alpharetta; certainly not ones that come close to Bezoria in pr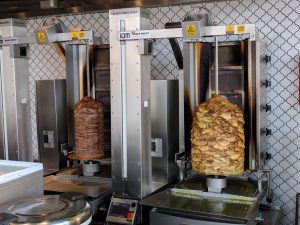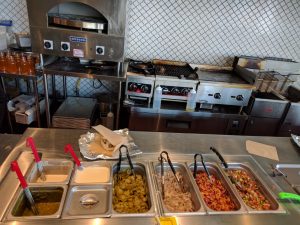 ice and quality!
My husband and I went to Bezoria for a late lunch on a Sunday and enjoyed everything till the last bite! Located on Old Milton Parkway across from Avalon, Bezoria is in a very central and desirable location. The restaurant itself is beautifully decorated and spacious. Once you walk in, you come up to a Chipotle-like station where you can pick and choose your type of meal and ingredients that go into it. You can create a sandwich in a Pita or Saj Bread (flatbread), a salad or a bowl with your choice of meat, vegetables or falafel. Then add on the slaw, onions and a number of other toppings! Finally, pick your sauce and devour your impeccable creation! Want to know more? Read on below!
I ordered the falafel in a pita with the cabbage slaw, onions and pickles with tahini sauce and my husband ordered a chicken shawarma sandwich with the garlic sauce. The falafel was prepared right in front of us and tasted incredibly fresh! The chicken was so flavorful! We didn't get the fries since it was a late lunch, but we did see how they were prepared and I know I will make sure to get those next time.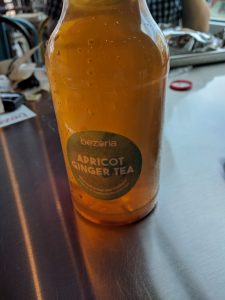 Outside of the food, Bezoria also makes their own in-house flavored teas. My husband got the Berry Hibiscus tea and I got the Apricot Ginger. They were both so refreshing and paired well with the sandwiches we had!
If you're looking some some seriously awesome fast-casual Mediterranean food, then please do yourself a favor and check out Bezoria and I promise you won't regret it!
Have you been to Bezoria yet? Post your thoughts below!