Downtown Alpharetta Gets its own Brewery!
RIP Hop Alley, but HELLO Currahee Brewing! As devastated as we are to be losing those delicious pretzels, cheese curds and chicken and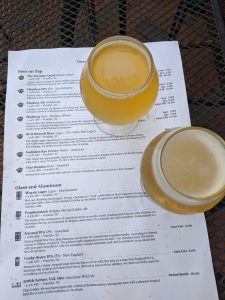 waffles, we can't deny that downtown Alpharetta needed a brewery to call its own. Currahee Brewing to the rescue!
Since they have opened (it has been a couple of weeks), we have stopped there at least 6-7 times. Every time we've stopped by, there's a crowd enjoying a pretty good selection of beers on tap and in cans. Our favorites so far are the Election Ale (Golden Ale), Blutburg (Sour) and the Charlton IPA. We have not yet ventured into their darker beers (you know since it has been scorching out), but I am sure they are equally tasty.
Currahee Brewing has not yet had its Grand Opening which promises 14 beers on tap when fully functional. A little birdie also told us that there will be a window between the brewery and Smokejack for brewery patrons to have easy access to some finger-lickin' BBQ! Now…this is what we've been waiting for. Rumor has it that Smokejack MIGHT be adding some of the Hop Alley favorites on its menu which may or may not include the legendary cheese curds (Lord, please let this be true!). We (and our pup) are fans!
I see beer in your future…make it happen!