Wham, Bam! A Maple Street Biscuit Company Review!
I can still taste the flaky, buttery biscuit goodness 3 full days after our visit to the Maple Street Biscuit Company (MSBC) at Teasley Place. This long-
awaited breakfast/brunch gem did not disappoint!
There were four of us with pretty diverse tastes and culinary interests who tested out MSBC on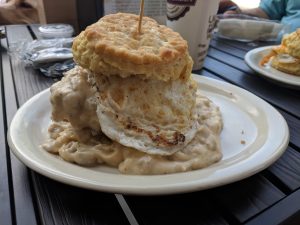 Saturday morning around 11AM. The restaurant is an order at the counter type of place. While ordering, the staff asks for your favorite vacation spot to identify your order which we thought was a unique touch.
Once your order is ready, they shout out your vacation spot (Cancun2…since someone else stole our Cancun). You grab your food, silverware and drinks and head to your table which has napkins, and a few types of hot sauces (Cayenne, Habanero, and one more I forgot). Now on to the food…
Regardless of our varied tastes, we all agreed that the biscuits and fried chicken were thebomb.com!
The Reinhardt – this is very close to a Chick-fil-A spicy sandwich in a biscuit with a honey mustard sauce. Hit the spot!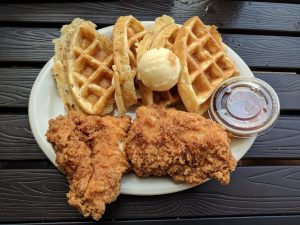 BAM Yo! Yo! (Chicken and Waffles) – y'all, the waffle has bacon bits in it and I am dead and went to heaven. The maple syrup is the only thing they don't make in-house.
Egg & Cheese Biscuit – simple yet classic and wonderful!
The Five & Dime – enough for two! So much bircuit, egg, chicken and sausage gravy. One of us thought while the gravy tasted great, it was too heavy. The other three didn't have a problem with any of it! It was gone.
Bottom line, go there. It's reasonably priced, service is great, food is phenomenal and there's nothing to lose!