Special Sneak Peak: Restaurant Holmes
While out visiting the very amazing Alpharetta Farmer's Market and Art in the Park this morning with our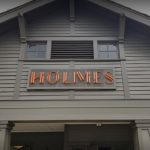 dog, Zoey, we decided to stroll over to City Center to check on the status of its development. One of the places we stopped by was Restaurant Holmes, and we had the fortune of meeting its owner and Executive Chef, Taylor Neary. He gave us a special behind the scenes sneak peek! Read on to see more…
First walking into the door, we were met by a very impressive looking and fully stocked bar. Is it stand out specialty? A full shelf of Gin! W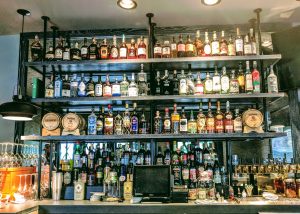 e weren't able to sample any cocktails quite yet, but it's safe to say that they're going to have some awesome drinks ready to serve.
Walking back into the main dining room, we saw an amazing full wall mural overlooking the seating area. Taylor asked that we not give away what it is or share photos of it just yet, and we're more than happy to respect his wishes. Let me just say this… it's amazing and a must-see if you make a visit to Holmes.
Like any good tour, Taylor showed us the restrooms towards the back of the restaurant. Keeping with the artistic theme of the main dining room, both restrooms also feature amazing hand-drawn artwork – all made with Marker! I can't imagine how many hours that took, but it looks simply stellar. We don't always talk about restrooms on this blog, but definitely, Holmes has the nicest ones we've seen in quite some time.
The final stop on our tour was the kitchen where was saw a very extensive and custom configuration. It's fully built and ready to cook! Of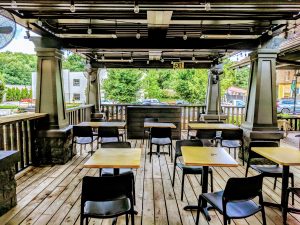 special note was the wood-fired grill at the back of the kitchen which will soon be grilling up some delicious specialties.
In speaking with Taylor, he wasn't quite ready to reveal the final menu, but he did say it will have a very fresh farm-to-table approach throughout.
On our way out, we stopped by the expansive outdoor seating area and it looks simply amazing. With fans and heaters already built in, this patio is ready to serve year-round.
After all this? One big question remains: when does Restaurant Holmes open? Taylor said the Grand Opening is set for July 11th, and as you might expect, we'll definitely be there!