A Different Kind of Review: The Velvet Note
Alright folks, we have a bit of a different review for you today. It's not a restaurant, but you can eat here. It's not a bar, but you can drink here. It's Alpharetta's own Velvet Note which has been recognized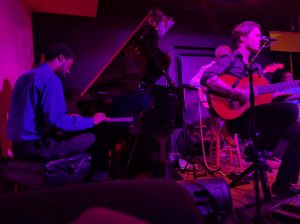 time and time again as one of Atlanta's best Jazz Venues. We went to the Velvet Note last week to see Roman Street perform (our 5th time here, and 5th time seeing them at the Velvet Note) and as
usual the experience was excellent.
The entertainment varies every week and they've had many Grammy award winning artists perform here. It's a small living room size venue that probably doesn't seat much more than 50 people if I had to take a guess. On our night here, we were lucky enough to sit in the couch up front which provides both excellent comfort and the best view in the house.
It's recommended to buy tickets online to have a confirmed seat. There's nothing to print out; your name will be on the list when you arrive. From my experience, seating is generally first come first serve style with the early birds getting the up front seats, which are definitely better. Once seated and before the show begins, a server will come take an order and for us, we ordered a bottle of the Black Cabra wine which is an excellent Malbec. We love this so much, we've tried finding it in stores but have been unable. If you know where it is, please comment! The wine prices are on-par for the Alpharetta area with a bottle starting in the low 30s. They also have a full bar, but we haven't indulged in that yet.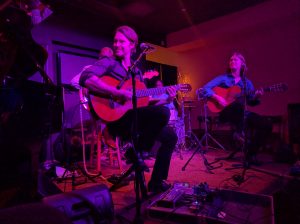 The Velvet Note also serves food, but we've never had any as we typically go to the 9:30 shows and have dinner at home before. The very cool thing I like, even if it does appear at little cheap at first, is that all food is served on plastic plates. This is to prevent the cling-clang silverware sound on dishes while a show is going on. When you think about it, this really makes sense.
In atmosphere terms, the venue is of a very unique design having been crafted by a protégée of the great George Lucas. There are missing ceiling tiles, speakers allover, and lots of other things I don't honestly understand, but Tamara, the owner, tells us leaves the venue so there is no bad seat in the house. The theory is that the music will sound just as good in the back in the in the front, which I can certainly attest to having sat in both places.
The service has always been top notch as well from order taking, to wine delivery and pouring, and payment about 80% way through the show. The servers are so sneaky quiet as well to not interrupt the show. It's really amazing the level of effort The Velvet Note goes through to make sure all guests get the full experience of the show they paid for.
We would highly recommend The Velvet Note as a local spot for evening entertainment, a few drinks, and maybe even some food!