Sippin' on Tea at Urban Tea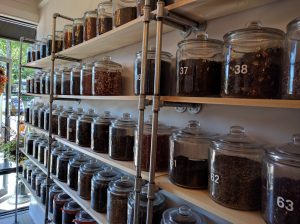 Last weekend, Daniel and I came across this tiny little place right next to Which-Wich on Windward Parkway called Urban Tea. Both Daniel and I are fans of flavored tea so we decided to check it out. The place is very small, but absolutely adorable. There is a front area with about 113 loose leaf teas and a back room where they hold tea parties and events on weekends. The teas are sold either hot or cold as per your liking and they also have scones to enjoy with the teas.
I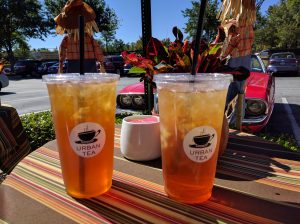 would compare the quality of the teas to Teavana, but the prices are so much more reasonable! They also have a frequent visitor discount – free 2 ounces of 2 teas after 10 visits. When we walked in, we were overwhelmed by our options (in a good way!). The wall to the left is lined with all 113 types of loose leaf teas they carry and we were allowed to smell the wonderful aromas of some of the teas on the menu that interested us. I ended up getting the ginger tea (cold), perfect for a fall afternoon! Daniel got the peach tea (cold) as well. The teas were brewed right in front of us and put on ice (for cold). The teas are brewed unsweetened so you will have the option to add Agave, Simple Syrup or Honey to your cup/glass.
The service was phenomenal. The ladies at the front answered questions, introduced us to teas we may want to try in the future and also gave us ideas on infusing spirits with some of the tea flavors when we told them that we like infusing vodka and tequila at home.
Overall, we enjoyed our experience and will be back!