Brunch Review: The Southern Porch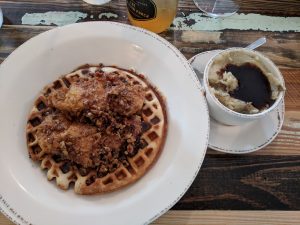 Downtown Alpharetta is winning the breakfast and brunch scene! We recently wrote a review for Maple Street Biscuit Company, a new addition to Downtown Alpharetta's restaurant scene. Now we bring you The Southern Porch, another fantastic addition to the Breakfast/Brunch/Lunch options right here in the heart of Alpharetta.
The brainchild of the owners of Flatlands Bourbon and Bayou, The Southern Porch is a southern-inspired restaurant currently open for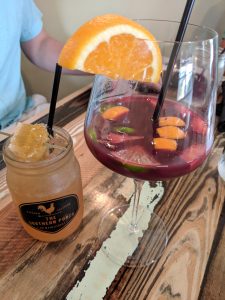 breakfast and lunch. The restaurant is located in the charming little bungalow where Mittie's Tea Room used to be, but has a completely different interior than before. The farmhouse feel of the restaurant makes you feel like you are hidden somewhere in a small town in South Georgia and not steps away from a bustling highway.
As soon as we walked in, we were seated and served drinks. Not all of us were in the mood for alcohol that afternoon so only two of us ordered drinks – Red Sangria and the Honey Bee. While we recommend both drinks, we are a bit biased towards the Honey Bee. The drink is made with Jack Daniel's honey and garnished with a real honeycomb. Try it!
For food, we all ordered something different and were impressed with all of the entrees! Two of us went for the lunch options and ordered the Reuben and Pulled Pork. The Corned Beef in the Reuben tasted fresh and homemade! It was slow-cooked deliciousness! The Pulled Pork had this amazing smoky flavor that left you wanting more!
The remaining two ordered breakfast options. One of those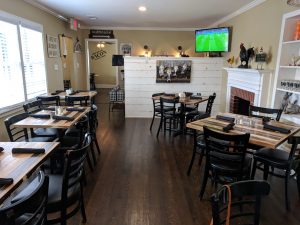 was the Chicken and Waffles. I think we probably didn't pay attention to the menu on this, but the Waffle came with a good chunk of nuts on it. I'm not a huge fan of nuts, but my husband enjoyed the dish. If he were to pick between the Chicken and Waffles at Maple Street Biscuit Company vs. The Southern Porch, he would go with the Biscuit Company. Regardless, a solid choice! Last but not least, I ordered the Dirty Fried Chicken Biscuit – the best combination of Biscuit, eggs, gravy, cheese, and potatoes. So so heavy, but so so satisfying! If you're looking for a light meal, don't order this!
Overall, we are so happy to have yet another breakfast/lunch spot in downtown Alpharetta. With all these options, I'm not sure we're going to know where to go! Check out The Southern Porch. You won't be disappointed. A little secret we heard is that they are going to start opening for dinner in the fall! Southern food for dinner? COUNT US IN!