Butcher and Brew (That Rhymes!)
For a restaurant that's called Butcher and Brew, this place sure had some very good vegetarian options in addition to the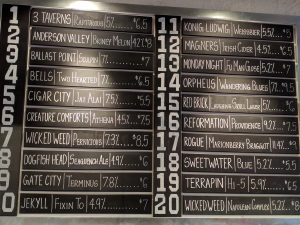 meat and the beers! We've been to Butcher and Brew twice now; the first time with a group of 7 and the second time with a group of 4. The restaurant does not do reservations, but since we went there on weekdays (Tuesday and Thursday), we did not have much trouble getting seated.
The atmosphere in the restaurant is very casual and sort of hipster-y. Since it is right off Highway 9, it can get noisy if you are sitting close to the door, but not so bad that you can't hear the people next to you. The first time we went there, it was to celebrate a friend's birthday and the second time was just a casual dinner with family. The service was top-notch both times!
We walked in and went straight to the bar both times to try some of the brews they have. There's a very large chalkboard with a list of 20 draft beers you can choose from. In addition to the
beer selection, they also have a cocktail menu with some decent options. We've ordered the following there before in terms of drinks in our 2 trips
Ancho Mamma's Rita – made with mezcal so it has a smokey flavor to it, but also a little bit of spice
Ginger Midget – comes in a Moscow Mule glass and was good, but could have been stronger
Havana Heat – pretty good; I'm not a huge rum fan, but this was not a bad drink
Jekyll: Hop Dang Diggity Pineapple Habanero – I enjoy this beer very much; easy to drink and light enough with a sweet and spicy aftertaste
Reformation Providence – High gravity beer and good for the soul!
There were a few other beers in there somewhere including a Imperial Stout and they all tasted very good; loving the Craft Beer movement in Atlanta!
As for food, we tried a ton of stuff!
Free popcorn, the salt on it is crack. We kept stuffing our faces with popcorn until the appetizers came

The Poutine (aka fancy fries)

Wings with Korean BBQ sauce – this wasn't very spicy, but the flavor was on point! Sweet and zingy and the chicken was tender and falling off the bone! Mmmm…
Poutine – I was little skeptical about the whole gravy on fries thing, but was I so wrong! The Poutine was the best blend of fries, gravy, bacon and goat cheese! OMG, I could have totally ordered another one! You think I'm kidding…no.
Pigs in a blanket – Ok, so no joke, this was pretty good, but 12 bucks for 5 pieces of this I thought was a little much. Make it 8 pieces and you have a deal, but 5…overpriced.
Black Bean Hummus – vegetarian-friend-approved! I was surprisingly impressed by this one.
The Underwood – so…I didn't actually order this. I ordered The Land Lady, but ended up getting this and ate it anyway because why not? I was probably going to get it next time anyway. The group of 4 all had a bite and everyone was very much on the same page about this one – Dang, that's good! The meat was tender and plentiful, and the mustard and swiss cheese

Pigs in Blankets (It comes with 5… we just ate too fast)

definitely made it what it was!

The B&B Burger was a huge hit! 2 of the 4 got it and both licked their plates clean! The burger was well-seasoned and cooked perfectly. One of the better burgers in the area! I would definitely suggest it!
FFI – my sister got it and didn't enjoy it as much. She rated the burger first, then the Underwood and then her sandwich. I tasted it and thought it was good, but nothing over the top. Worth trying, but not worth getting over and over like the burger and the Underwood.
Homer – vegetarian-friend-approved! This was a very delicious sandwich! The cheese was oozing out and it was filling and hearty! Lots of veggies, but that's the point! 🙂
Asian Bowl – I find this a bit overpriced. $10 for the bowl and $6 more to add chicken to it? That's $16 for a bowl of veggies, rice and chicken. The flavor was great, but I'm still not sure I agree with the price for that dish. I could see it being around $12-$13, but not sure it's worth $16.

The Underwood

Sides – I've only tried the mac n' cheese and sweet potato fries; I choose mac n' cheese!
Chocolate Cake – birthday girl got chocolate cake and we all attacked it. The chocolate cake was so rich and delicious and oh yum! We usually don't get to dessert, but how do you say no to free birthday dessert? You don't. You sing Happy Birthday and then eat it. That is what you do.
Overall, all of us really enjoyed Butcher and Brew and we would definitely go back. I'm a fan of their vegetarian options, not something South Main Kitchen has and they both are owned by the same folks. I'm also a fan of their draft beer list and the cocktails I've had so not much negative here.
Go check it out!