Sage Woodfire Tavern – Booze and Food (Can't be creative with headers today)
Hello Hello!
As our usual Wednesday tradition came around this week (Wine Wednesdays), we made our way to Village Tavern for some half-priced wine and half-priced apps before 5:00 PM. Once their food Happy Hour ended, we started thinking about any and all places that we could go to that may have a Happy Hour past 5:00 PM. I had heard a while ago from an old boss that Sage Woodfire Tavern had Ladies' Night on Thursdays and turned into "Cougartown" late Thursdays (not my words!). I also recalled her telling me that they had some sort of deal that sounded like a Happy Hour so we decided to check it out.
Sage is owned by the same people who own Spice at the corner of North Point Parkway and Haynes Bridge Road. It all makes sense now because they have many of the same menu items and the outside sign looks pretty similar…I'm not very observant.
Anyway! We walked in and saw their specials – menu pictured below – for Monday-Friday. I have to say, I was pretty impressed by the variety of drinks and food on their menu immediately. So let's get to the important stuff: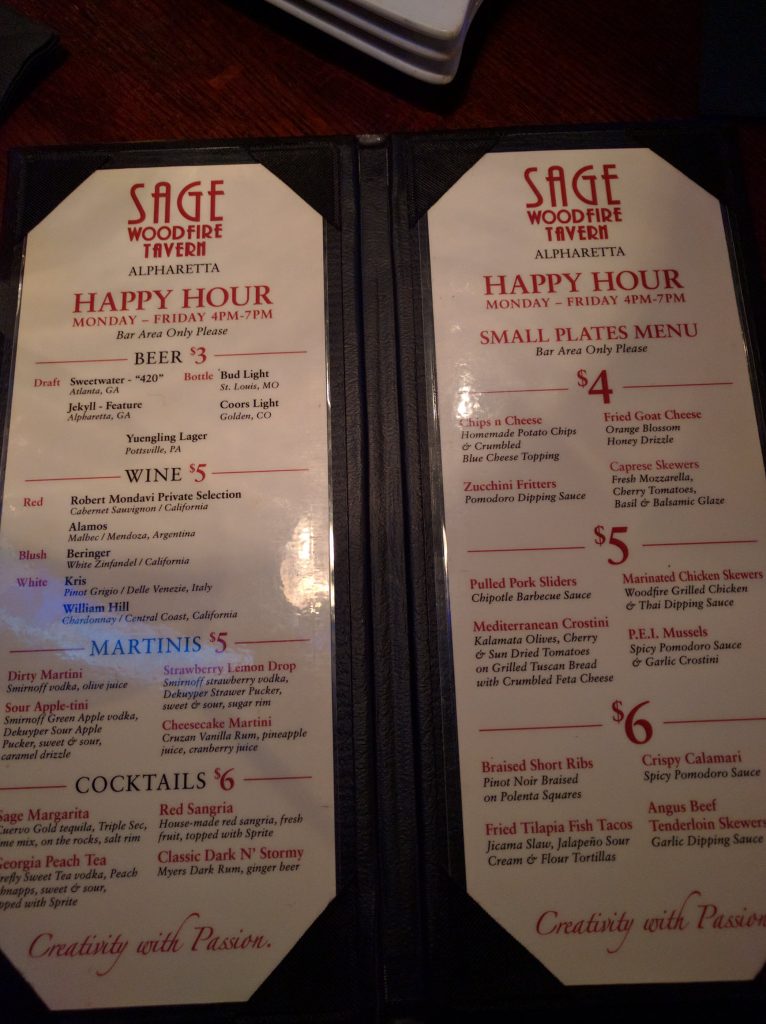 Let's get logistics out of the way:
Happy Hour is from 4:00 – 7:00
Drinks include wine, beer, cocktails and martinis – prices range from $3 – $6
Food includes a variety of different types of meats and veggies – prices range from $4 – $6
Happy Hour is only at the bar and in the bar area
Atmosphere and Service: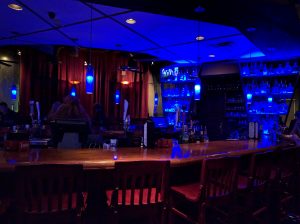 The place sets a nice mood – kinda dark, but cozy. It could make a good date night spot. The bar is lit up very pretty blue and is U-shaped. I like those better than the straight bars because I feel like bartenders can handle more people and serve better at a bar that shape.
We sat at a high-top in the bar area and were served with waters immediately. The waitress was very sweet and attentive. She gave us recommendations and honest ones at that! She told us not to get the calamari because it was not worth it compared to the tenderloins and the short ribs. I like that; honest recommendations are appreciated! Not much else to say about service because we didn't have any complaints. It was great!
Drinks:
My sister and I ordered the Strawberry Lemondrop Martini. We liked it; how do you know we liked it? See picture of receipt below. Shh….
My husband ordered the Georgia Peach Tea, he arrived late so had to do some double-fisting so ordered 2 drinks basically together. He also liked his drink. "Very tasty," he says.
I did not try this, but saw someone get the Apple-tini and I think I will try that next time!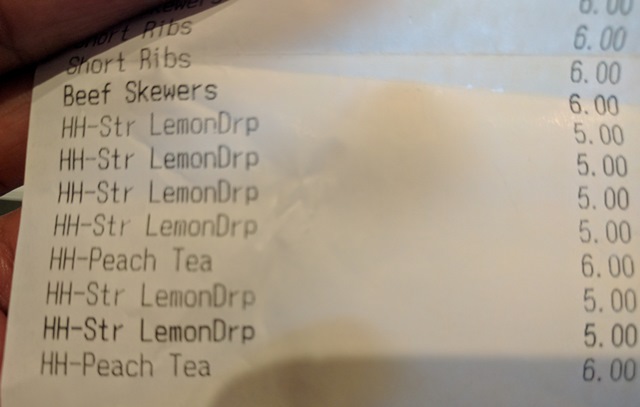 Food:
We started with the Fried Goat Cheese and Zucchini Fritters

Fried Goat Cheese – so incredibly delicious, but I wanted more than 2 on that plate. The honey is a perfect pairing with the crunchy outside of the cheese balls, but the melty inside! Mmmmmm!
The Zucchini Fritters – not really a fan. I would have liked more breading; the weak breading made the zuchinni a little soft and weirdly textured. The Pomodora sauce that came with it was not bad, but didn't have the flavor I was looking for. I usually like the sauce to have good flavor if the actual dipper is going to be somewhat bland. To me, this whole dish turned out a little bland. It's a "Meh" on a 1 to 10 range.
Braised Short Ribs – Spice also has this dish, but it is bigger. Sage does a Happy Hour version of this dish so its a bit smaller, but don't be fooled! It tastes so so so so good! The meat is so tender and fall-apart-in-your-mouth decadent! The Polenta it comes on is such an awesome compliment to the meat and wonderful to soak up the sauce at the end! Must-have! We got 2 orders…don't judge.
Angus Beef Tenderloin Skewers – There are 2 skewered, each with 2 pieces of tenderloin on them. The meat was cooked perfectly to the perfect medium my husband has to have. The meat was very tender and was very easily inhaled by itself, but you didn't have to eat it by itself because it came paired with a Garlic Aioli. The only complaint is that there was not enough Garlic Aioli for the meat…by our standards because We Sauce. It's kinda like "I Slay," but more like "We Sauce." I would have garlic sauce in my bag, swag! Sorry, channeling my inner Beyonce today.
Overall, the restaurant and Happy Hour were very impressive and we would definitely come back again for more! Check this place out… it's not just for Cougars! 😉
Disclaimer: Some food pictures may be missing and others may not have the full portion of food because we started eating and forgot to take pictures first.