Coming Soon: the LOCAL wood fired grill to Windward Village Plaza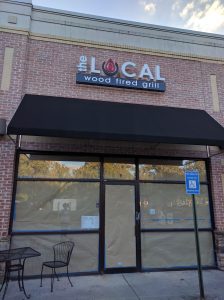 Windward Parkway has a lot of strip centers along it, so I'll forgive anyone who doesn't immediately recall which one is "Windward Village Plaza." For those without photographic memories, it's the little center on the south side of Windward that used to house zpizza and the recently closed Starbucks which moved next door to get a drive thru and bigger patio.
So what's new to Windward Village Plaza? We don't know much yet, but a building permit was recently issued and a sign went up for the LOCAL wood fired grill (not sure if capitalization is right…. just matching the sign.) They are renovating the old zpizza and all we know right now is that the new restaurant will definitely include a bar and this doesn't appear to be a part of a chain. (Plenty of that already on Windward.)
Stay tuned and we'll get you more info and a review once the LOCAL is open! We're predicting a rather quick opening given hey have patio furniture already.