For a restaurant that's called Butcher and Brew, this place sure had some very good vegetarian options in addition to the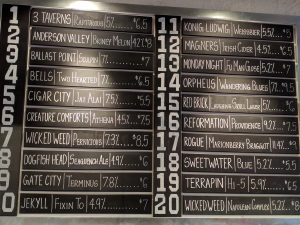 meat and the beers! We've been to Butcher and Brew twice now; the first time with a group of 7 and the second time with a group of 4. The restaurant does not do reservations, but since we went there on weekdays (Tuesday and Thursday), we did not have much trouble getting seated.
The atmosphere in the restaurant is very casual and sort of hipster-y. Since it is right off Highway 9, it can get noisy if you are sitting close to the door, but not so bad that you can't hear the people next to you. The first time we went there, it was to celebrate a friend's birthday and the second time was just a casual dinner with family. The service was top-notch both times!